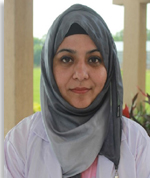 I started my career as Research Officer at Centre of Excellence in Molecular Biology in March, 2005. There I performed sequencing and genotyping of DNA samples in DNA Core Facilitythat is the first such kind of high throughput sequencing/genotyping laboratory in Pakistan. In 2006, I was nominated by Centre for training on Genetic analyzers by Applied Biosystems Inc., at Warrington, UK. I also have expertise in synthesizing primers and probes, with wide range of molecular biology applications, on DNA synthesizer.
In 2009 I was awarded the Indigenous Ph.D scholarship by Higher Education Commission, Pakistan. During my Ph.D at CEMB, I worked on genetic aspects of asthma in our population. I did SNP typing and sequencing of potential candidate genes by optimizing a cost effective method and found Single Nucleotide Polymorphisms and haplotypes that predispose our population to asthma.In 2012, I attended international workshop on "Bioinformatics: Database Mining and High Throughput Genomic Analyses" at COMSTECH, Islamabad. By using bioinformatics tools (i.e., Haploview, Plink, HaploReg),I proposed the epigenetic mechanism by which an SNP on 17q12 might specifically predispose to asthma.
I presented my work at national and international levels. In 2015, on basis of my research abstract, I was awarded travel grant by European Academy of Allergy and Clinical Immunology (EAACI) for presenting my work during course on "Molecular and Lab Asthma" at Istanbul, Turkey.My research work is published in reputed international and HEC approved journals. Currently, I am supervising M.Phil and Ph.D scholars for their dissertations on genetics of complex human traits/ diseases.